Tuesday 01. 11. 2022
Join us – "Innovation in Greece and the entities that support them 3.0"
The Athens Digital Lab of the Municipality of Athens participates for another year in the annual meeting of entities of the entrepreneurship and innovation ecosystem.
The event is taking place by the NBG Business Seeds and the ACEin with the support of Uni.Fund, Endeavor Greece, Archimedes Center for Innovation and Entrepreneurship and Metavallon.
Innovation in Greece and the entities that support them 3.0 | Session: Innovation in vertical sections
Join us and tune in online, on Saturday 22nd January, 15:00-15:30. To watch live, register here: https://bit.ly/33d26XR
We will be speaking together with representatives from EIT Digital – Found.ation, EIT InnoEnergy, EIT Climate-KIC Hub Greece, EIT Health – National Documentation Center and Generation Ag Greece.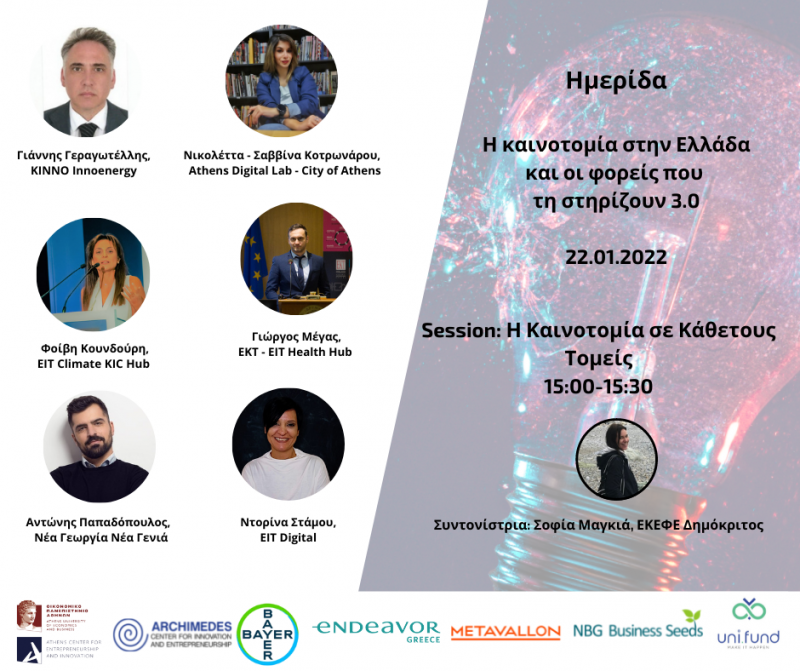 ΟΡΟΙ ΣΥΜΜΕΤΟΧΗΣ